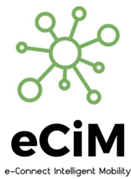 TITLE: INDUSTRIAL RESEARCH FOR THE GENERATION OF A GLOBAL AND CONNECTED ENVIRONMENT FOR THE EFFICIENT MANAGEMENT OF ELECTRIC VEHICLES AND THEIR ASSOCIATED ENERGY SYSTEMS BY MEANS OF INTELLIGENT SOLUTIONS.
PROJECT REFERENCE: PTAS-20211004
CALL: SUSTAINABLE AUTOMOTIVE TECHNOLOGY PROGRAMME (PTAS) 2021
ORGANISATION: SUBVENCIONADO POR EL CDTI
ACRONYM: E-CIM "e-Connect intelligent Mobility".
PROJECT OBJECTIVES: The main objective of this project is to generate a global and connected environment for the efficient management of electric vehicles and their associated energy systems by means of intelligent solutions with energy from renewable sources. The four subsystems that make up this environment will be investigated: vehicle and batteries, charging station, communications infrastructure and global management platform.
PARTICIPANTES: PARTICIPANTS: UNVI CARROCEROS, S.L. (REPRESENTATIVE); ADN CONTEXT-AWARE MOBILE SOLUTIONS, S.L.; ETRA INVESTIGACION Y DESARROLLO, S.A.; FLUID & THERMAL MANAGEMENT, S.L.; HIMOINSA, S.L.; ITERA SOLUCIONES DE INGENIERIA, S.L.; NUNSYS, S.L.; SAINSEL SISTEMAS NAVALES, S.A.
R&D CENTRES: IKERLAN, S.L.; INSTITUTO DE BIOMECÁNICA DE VALENCIA; UNIVERSITAT POLITECNICA DE VALENCIA.
PERIOD OF EXECUTION OF THE PROJECT: 01/10/2021 to 31/12/2023
PROJECT BUDGET: 7.417.315,00 €
SUBSIDY GRANTED: 4.147.662,60 €
FUNDING: Next Generation EU funds, including the Recovery and Resilience Mechanism of the Spanish Government. Project supported by the Spanish Ministry of Science and Innovation.
The company UNVI is leading the e-CiM project "e-Connect intelligent Mobility", managing and coordinating a consortium made up of 8 Spanish companies in collaboration with 3 technology centres. This project is aligned with the creation and strengthening of the connected and electric vehicle manufacturing ecosystem that will drive the corresponding Strategic Project for Economic Recovery and Transformation (PERTE).
In this innovative project, UNVI is participating in the research necessary for the development of a new range of electric propulsion buses capable of providing a solution to the main limitations of the current alternatives. The studies carried out within this project are making it possible to generate disruptive solutions in terms of new modular batteries for the use of interstitial spaces, battery exchange systems for the drastic acceleration of vehicle recharging, cutting-edge cooling systems capable of guaranteeing ultra-fast charging without battery degradation, new developments in connectivity and driving assistance, as well as innovative accessibility and ergonomic solutions that will enable the development of new generations of electric buses at the forefront of the sector, capable of responding to the great unknowns and limitations that this market currently presents.
The result of this project is the new eC24s vehicle, a small urban electric bus, suitable for use in combination with last-mile parcel delivery, in which all the research framed within the global project that UNVI is leading has been applied. The main feature of this new UNVI product, 100% UNVI and 100% electric, is its reduced size, which allows it to be used in historic city centres, maximising the interior space and giving versatility to sustainable transport in cities, whatever their characteristics. A sustainable, innovative and versatile vehicle that responds to current market demands and is ready to adapt to new market and social needs.